In our previous newsletter we indicated that the feedback we receive on the One2Born hatchholders is very positive. The most important feedback we receive concerns the simplicity of placing the eggs on the hatchholders, the storage and the transport to the poultry farmers by using the trolleys. All this with optimal biosecurity; something we are very proud of and would like to share more of with you!

The One2Born hatchholder simplifies the entire process from hatchery to poultry farmer. Thanks to the ten by five row size, the trays match the size of the setter tray. In addition to the easy filling, they also offer the convenience of a stackable effect. Next to that, they can be easily rotated 180 degrees therefore simplifying the entire process with the use of the One2Born hatchholders.
As far as loading and unloading is concerned, the old process called for tight schedule. On day 18 the eggs were inspected, placed on the tray and were immediately loaded for transport. The One2Born makes it possible to prepare the eggs for transport both during pre-hatching as well as post-hatching. The eggs can already be packaged and prepared earlier and the driver can load the One2born trays with eggs later, free of further dependence on hatchery colleagues. The entire planning and logistics has therefore become much simpler and much more efficient.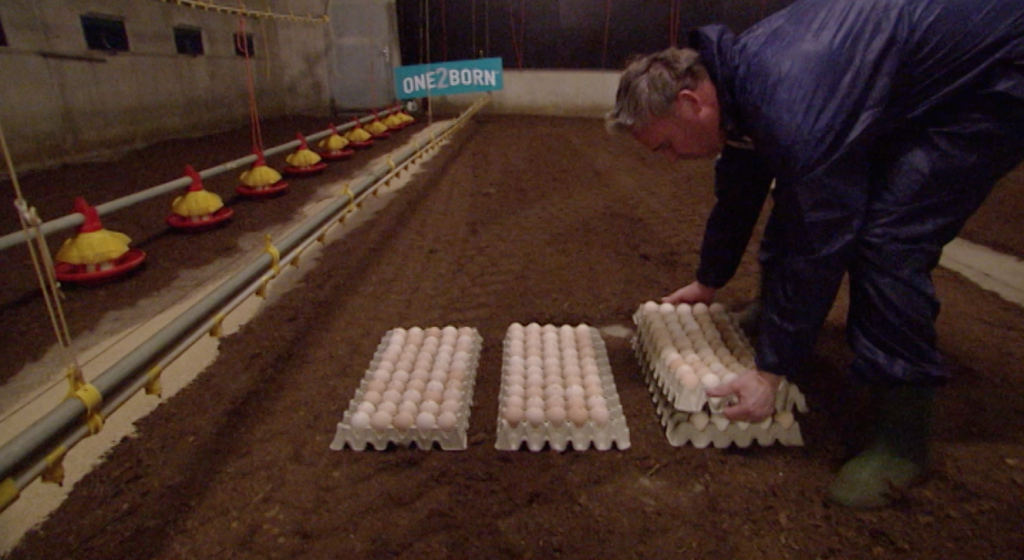 Another big advantage of the One2Born hatcholders is that optimal biosecurity is achieved during the process, because all hatchholders go through a drying oven with a minimum temperature of 200 degrees Celsius for several minutes. All potential bacteria and viruses like Salmonella are killed during this process. The One2Born products are tested for this on a regular basis by a qualified and certified external laboratory. All in all, the use of the One2Born eliminates the risk of both horizontal as well as vertical chick contamination, prevents spread of disease and results in both higher work satisfaction and higher profits with a larger animal welfare.

The first hatcheries have now opted to automate the placing of the eggs on the One2Born hatchholders. The first drawings of an automatic egg lifter were made in order to design a perfect and efficient method of placing the eggs. The ease the One2Born trolley offers in storage, transport and a simple way of loading and unloading all combine into making the One2born a complete and incredibly good concept. The One2Born concept has proven its worth for both hatcheries and poultry farmers and, in combination with automation, is the way to the future!
Are you already using the One2Born and do you have feedback for us?
Or are you not yet using the hatchholders but would you like to try them out? Then please feel free to contact us via [email protected] or give us a call on 0031 41 27 24 994.